Diving and snorkelling with turtles in Bonaire
Guest blog by Lee Letwin
It's always a thrill to see turtles while diving or snorkelling. One of my favorite marine animals is a sea turtle. Whenever I see a sea turtle under or above the water, it is a special, magical moment. They seem to fly effortlessly through the water. Regularly they come, depending on their activity on the surface for a breath of air. They have been around for millions of years.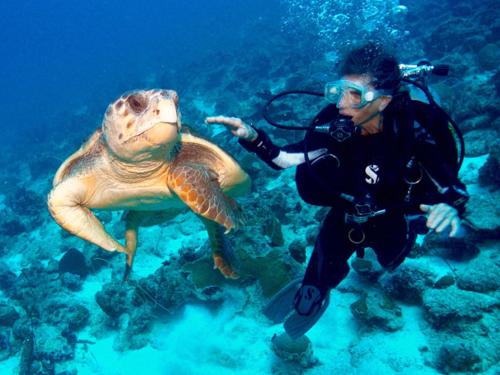 This adult Loggerhead turtle, the rarest and largest of the three species of turtles found in Bonaire was encountered while diving at Tiamo Beach. Tiamo Beach is a turtle nesting site and is just minutes away from Bellafonte. As seen in the picture the characteristics of a Loggerhead are it's large head and neck and it's relatively short front fins.
The best place to enter the water at Tiamo Beach is at the south end of the beach where the sand slopes gently into the water.
This Hawksbill turtle, characterized by it's beak-like mouth, was also seen while diving at Tiamo Beach.
Turtles can also be seen while snorkeling. This Green turtle was photographed while snorkeling at A Thousand Steps. It is identified as a Green Turtle by it's rounded head.
A Thousand Steps is a wonderful site to see turtles while snorkeling. There is a shallow rock shelf (seen behind the turtle) which has algae growing on it. The turtles feed on the algae.
Remember, you don't find the animals, they find you.
Can't wait to discover the beautiful underwater world of Bonaire - just like Lee did? Book now!